Race Information
The Race Series
The Super Kerbau Trail Run Series 2016/2017 is a roaming trail running series that will take runners through jungle, village trails and back roads in selected parts of Sabah on the island of Borneo. The Super Kerbau courses are designed for beginners and experienced trail runners alike, with a combination of trails and hills providing ample challenge for a fun day out.
The members behind Borneo Ultra Trails Sdn Bhd have been organizing races in Sabah since 1998 and have a long history of organizing some of the best races in Malaysia and South East Asia, including the legendary Sabah Adventure Challenge, TMBT Ultra Trail Marathon and the BUTM Ultra Trail Marathon which are big and tough races. The Super Kerbau race series is an ideal introductory to trail running to train for one of the longer courses of the bigger events.
Three races in the Super Kerbau Series of Races have been held till date, with the fourth and final of the present series planned for 10th December, 2017:
Race #1-Sunday, 18th September 2016, Kiulu, Tuaran District, Sabah
Race #2-Sunday, 11th December 2016, Pukak, Tuaran District, Sabah
Race #3-Sunday, 21st May, 2017, Tambunan, Sabah
Race #4-Sunday, 10th December, 2017, Kiulu Valley, Sabah
The race has three categories with distances in the order of 5-10 km, 15 km and 30 km, the race is designed to allow both beginners and experienced runners to take part and be challenged. Runners are advised to be medically fit and mentally prepared for the challenges ahead as runners are likely to be exposed to both hot, wet and muddy conditions, dependent on the weather on race day.
Race #4 (10th December, 2017)
The fourth and final event in the 2016/17 series was originally intended to be held in the interior district of Tambunan following on from Race #3, but due to a clash with another event, we have opted to move back to where it started in the Kiulu Valley. The exact race course will be finalized over the coming weekends and announced here once all permits are in place.
The race format will be maintained as stated above with the "short", "medium" and "long" courses, and the overall timing will also be maintained from previous events.
Outline of race course:
The race will start and finish at Pekan Kiulu along the river side (starting point for rafting).
Apart from the start and finish, there will be aid stations along the routes with provision of water and potentially fruits/snacks. There will be 1 aid station for the 9k course, 2 for the 15k course and 3 for the 30k course.
Cutoff times have been set to enable us to manage the course. These are generally very generous, but 30k participants do need to keep a steady pace to stay within the cutoff time and finish before dark. Cutoff times for the total race distances are tentatively set to:
short course: 4 hours
medium course: 6 hours
long course: 11 hours 
A map and additional course information is available on the "Course" menu page.
Sanctioning by International Trail Running Association (ITRA):
The 30 km course has been rated to 2 points by ITRA - see below.

Itinerary
An outline itinerary is provided below. This may be subject to changes as details are firmed up, so please recheck details closer to the race day if you are joining the event.
Race Pack Collection
Prior to the race, all runners must:
Pick up their race packs;
Sign a waiver and indemnity form (may be downloaded from the "Racebox" on main menu);
Provide a photocopy of their MYKARD or passport
Show compulsory equipment during race pack collection.
Race pack collection will be held at the BUT office over 2 days leading up to the race:
Friday 8th of December, 2017 from 11.00am - 7.00pm
Saturday 9th of December, 2017 from 11.00am - 3.00 pm.
Race pack collection will be at: Borneo Ultra Trails S/B Office, Block F, 2nd Floor, Unit No. 1, Corner Unit, Metro Town, Jalan Bunga Ulam Raja, 88300 Kota Kinabalu, Sabah, Malaysia. (see map below)
We do urge that runners register early to avoid congestion and also ensure that you have time to get your compulsory equipment in order if anything is missing. If any runners flying in for the event have difficulties making it for the registration times, please do contact us to make arrangements.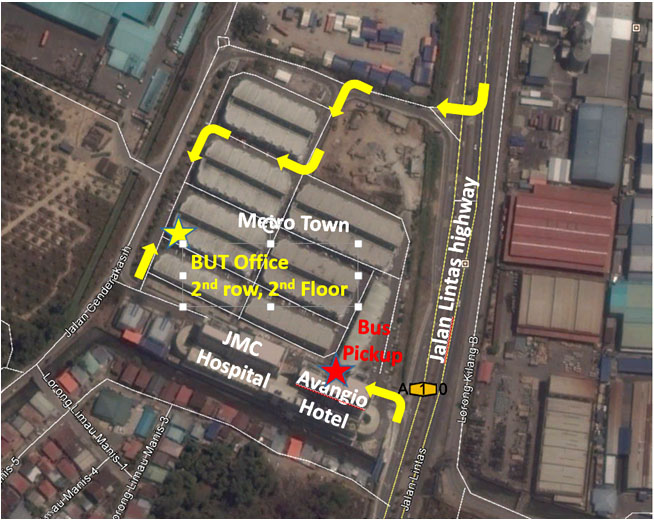 Race Logistics Sunday 10th December, 2017
6:00 : Prestart registration. All runners must sign in prior to the start to be ranked in the race.
7:00 : Race start for all three categories
7:30 - 8:00 : Expected finish of first short course runner
8:45 : Expected finish of first medium course runner
11:00 : Expected finish of first long course runner
11:00 : Cutoff time for short course runners
13:00 : Cutoff time for medium course runners
18:00 : Cutoff time for long course runners
Entry Fees and Entitlements for Race #4:
Please refer to the Registration page
Optional Bus Transfer:
An optional bus transfer is available for Sunday morning with Pick Up from Avangio Hotel, Metrotown, close to the BUT office - see map above.
An optional return trip from race venue to Kota Kinabalu is also available. Return times will depend on the number of people taking the bus transport and the time they finish. Some waiting time for bus(es) to fill must be expected.
The cost for the optional bus transfer is:
RM50 for a one way journey
RM100 for a two way journey
Transport Directions to Start/Finish location:
Will be updated once course is finalized. The drive from KK to the start/finish venue is approximately 1 hour. We will have a common start and finish area to ensure that transport logistics is easy.
Accommodation Options in Kota Kinabalu for out of town competitors:

Borneo Ultra Trails Sdn Bhd is located in Metro Town, a new township just outside of Kota Kinabalu city.
The 4-star Avangio Hotel by the Accor Group is located at Metrotown, close to the Borneo Ultra Trails office which is the venue for the race pack collection on the Friday before the race and also the bus pickup location for the optional bus transfer. Link: http://www.accorhotels.com/gb/hotel-9027-avangio-hotel-kota-kinabalu-managed-by-accor/index.shtml
There are numerous other accommodation options in KK. 
Camping in Kiulu:

For competitors who want to make a weekend trip out of the race and/or just want to stay overnight close to the race venue to avoid the early morning drive to Kiulu with risk of queues, it is possible to camp in Kg. Bayag immediately across the river from the start/finish area at the river side in Kiulu. There is a large grassy field with basic toilet and (cold) shower facilities available - see pictures below. You have to bring your own tent/sleeping bag. The charge is RM 10 per person for use of the facilities. Please contact Encik Abnor Duah for reservations and payment at +60 10 586 5938.
There are food options available at the Kiulu shops a few 100 meters from the camp site.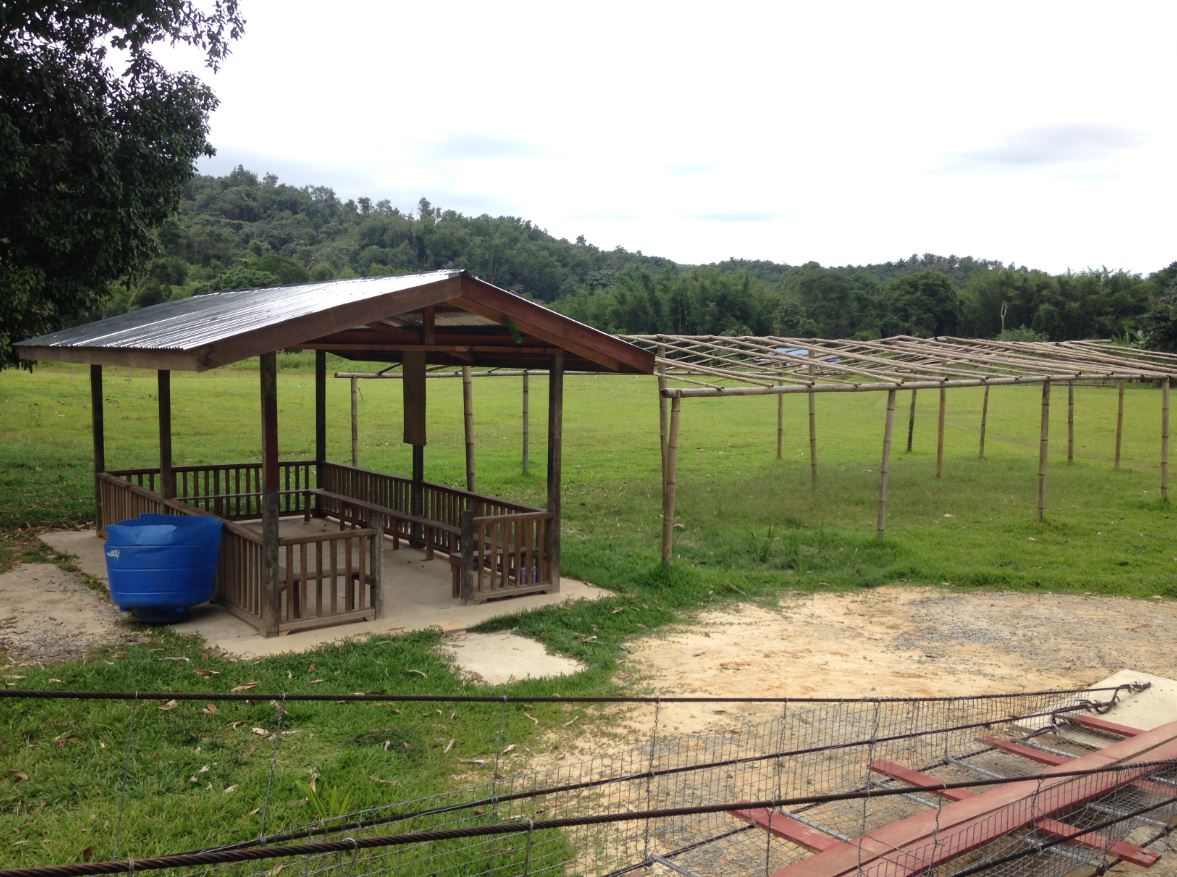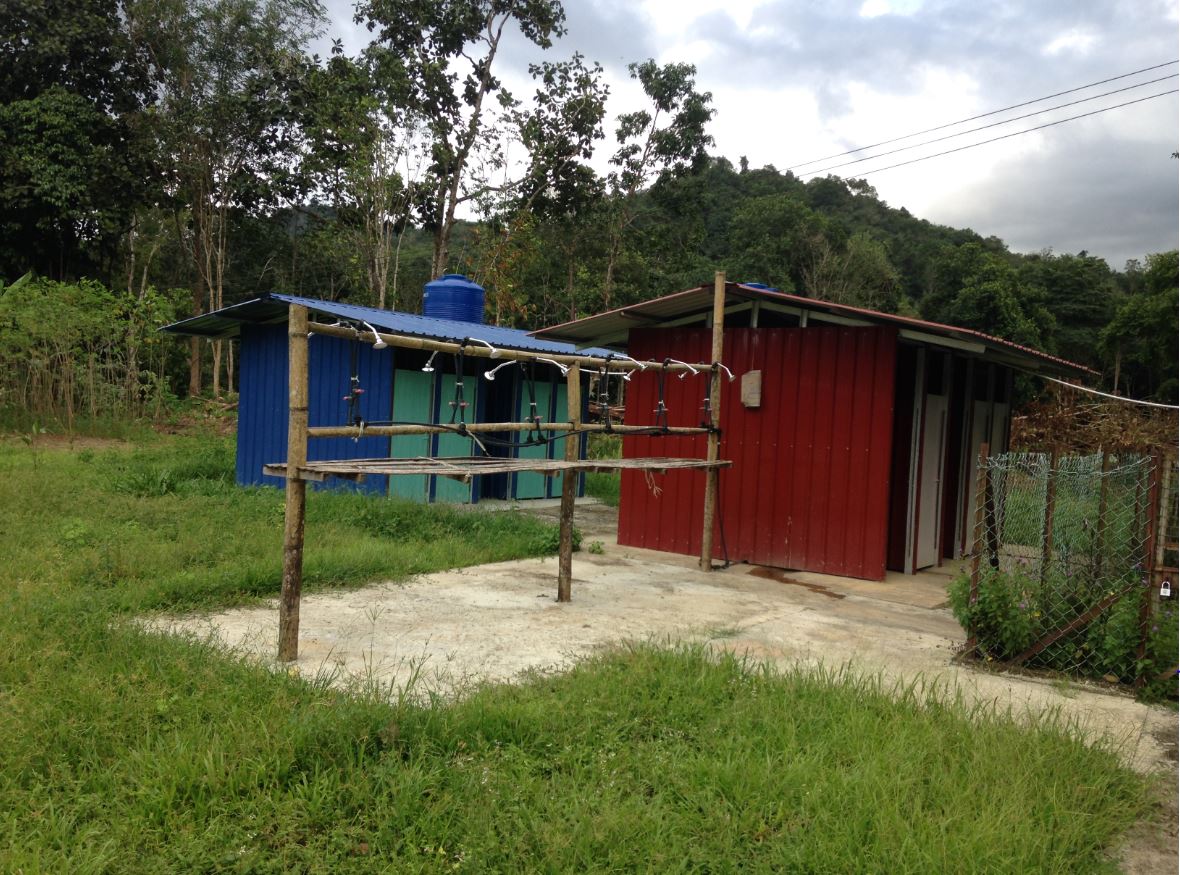 Mandatory Kit List
Please note the mandatory kit list may be updated between now and at least 30 days before the event date. Do check updates relating to the event to stay informed at all times.
Rules & Regulations
Please refer to the Registration page