Registration & Race Pack Collection
There are 3 processes in the full registration to take part in the event:
1) Registration and payment to "sign up" for the event - please refer to the registration page on this web site which will re-direct you to Racematix.
2) Race pack during the week prior to the event. This will include a check of compulsory gear.
3) Final registration at the start venue in the hour immediately before race start to register your participation in the event.
Race Pack Collection
Race Pack collection will be held in the Borneo Ultra Trails office in Metro Town (see office location on map below). Please refer to schedule below for tentative timing. Please note that this is subject to potential change, so please stay updated in the weeks leading up to the race. 
Date

Time

Location

Who

Saturday 3rd March

 10 am – 4 pm

Borneo Ultra Trails office

2nd Floor, Unit 1, Block F, Metro Town

Jalan Bunga Ulam Raja

Coordinates:  5°58'34.93"N  116° 6'43.60"E

 All

Sunday 4th March

 10 am – 6 pm

Wednesday 7th March Thursday 8th March

 11 am -  6 pm

Friday 9th March

 11 am -  9 pm

Avangio Hotel, Metro Town

Coordinates:  5°58'30.93"N  116° 6'48.05"E

Out of state competitors arriving  9th March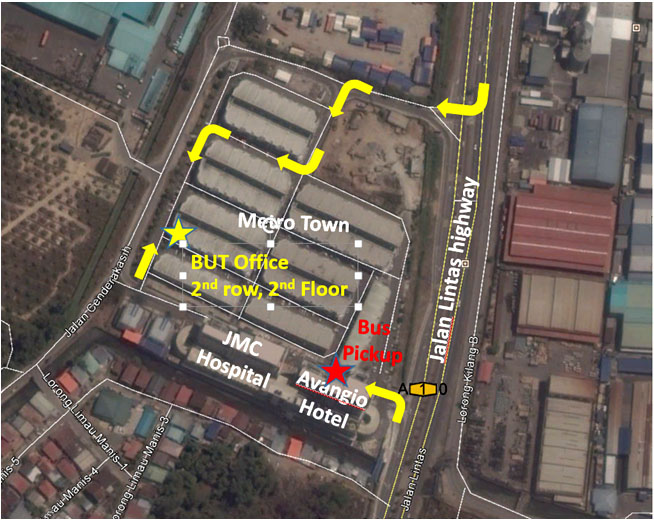 The race pack collection on Friday, 9th of March 2018 is reserved for out-of-state arrivals only. This is to avoid congestion and facilitate a smooth processing. We have added the weekend before the race for the convenience of local participants who cannot make it on weekdays. The race pack collection on Friday 9 th for out-of-state competitors will be open till 9 pm. We strongly urge all competitors to arrive early to avoid congestion in the late hours.
For any out-of-state competitors arriving late and unable to make the registration, please contact us at This email address is being protected from spambots. You need JavaScript enabled to view it. +60 10 933 4800 for arrangements. Please note:
All participants must register in person and bring identification for verification
Please bring copy of MYKAD or passport
An indemnity release form must be signed - please download from the dropbox prior to the event and fill it out.
Please bring compulsory equipment for inspection (not required for 12k competitors)
Race Schedule
An outline schedule for 10th and 11th March (race weekend) is provided below.
Please note that unlike previous years, the 12 km race for 2018 will take place on the Sunday. This gives the opportunity for 30k and 50k runners to also join the 12k race on the Sunday at a special discounted "add on" rate.
Date / Time

Activity

Saturday 10th March

4:00

Buses Depart from KK for 100k, 50k and 30k categories

5:00 – 5:45

Registration at hall. You must register and be scanned before start to officially participate

6:00

Start 50k

6:10

Start 100k

6:30

Flag-off 30k

10:00

Estimated first arrival, 30k

12:30

Estimated first arrival, 50k

20:00

Estimated first arrival, 100k

23:00

Cut-off time for 50k competitors

~24:00

Last bus departure to KK – there will be no return buses between midnight and 7 am Sunday for safety reason.

Sunday 11th March

5:00

Buses for 12k Depart from KK

6:00 - 6:45

Registration at hall 12k. You must register and be scanned before start to officially participate

7:00

Flag-off 12k

7:30

Resumption of bus transfer back to KK

8:30

Estimated first arrival, 12k

13:00

Cut-off time 12k

~15:10

Cut-off time 100k

~16:00

Last bus transfer to Kota Kinabalu
Transport & Parking
Bus Transfers
For those who have opted and paid for the bus transport provided to the start line, the buses will depart on 10 th March at 4:00 am for the 100k, 50k and 30k and 11th March at 5 am for the 12k. Please be at your designated departure point at least 15 minutes prior to departure to get registered and onto the bus to avoid delays.
Bus departure points:
Mega D'Aru Hotel, Tanjung Aru
Downtown at Burger King across from the Hyatt Hotel.
Avangio Hotel, Metro Town (see map on previous page)
Return journeys will distributed through the day as people finish. Please be prepared for some waiting time at the finish area as buses fill up. Please register your name for the return journey upon finishing the race. If you have a flight to catch, please inform us via email at This email address is being protected from spambots. You need JavaScript enabled to view it.. For 100k competitors who finish during the night, there will be food, chairs and floor space in the hall at the start/finish. If you wish to sleep in the hall, please bring your own sleeping matt / sleeping bag.
Self-Drive
For those who drive to the start, we strongly encourage car-pooling to avoid a large traffic jam getting to the start and congestion at parking areas
Please allow time for a slow drive from Tamparulli to Kiulu as the road is relatively small with a risk of congestion.
Do not block traffic at Kiulu – follow instruction to park efficiently and proceed to Dewan for registration. A map of parking areas is provided below - no parking is allowed along the roads leading into to the start/finish area and at the riverside to avoid blocking the route and access points.
Outline driving directions from KK to Start:
Take main highway north towards Tuaran
At round-about at Tuaran hospital, turn right towards Ranau
After 5 km, take right-hand turn in roundabout before Tamparulli.
After 1 km, before crossing bridge across river, take right-hand turn towards Kiulu (signboards to rafting site)
Continue up over a hill and down into Kiulu Valley, passing several villages before reaching Kiulu.
Follow main road to the left across bridge and follow instructions to find parking.
Coordinates for the start/finish area at Kiulu: 6° 3'29.14"N 116°16'54.28"E
Start Area Logistics
Registration and Luggage Deposit
Immediately upon arrival get registered in Dewan Kiulu. If you do not get registered and scanned in, you will not be registered as participant in the race.
If you have a half-way bag or a finisher bag, these can be deposited in the hall. Tags will be provided at the luggage counter.
Immediately after registration and bag-drop in the hall – move to the starting area at the river side (400m, follow sign boards). Do not stay in the hall as this will slow down the registration process and/or you may miss the start.
Start
The 50k category will start first. Line up behind the starting banner and be ready for start at least 10 minutes before start.
100k category, line up well behind the 50k category, but DO NOT start together with them as you will be taking a separate route.
Immediately after the 50k category has started, 100k category moves forward to the start line to be ready for flag-off.
30k category line up after the 50k category has started.
On Sunday morning, the 12k category will follow the same procedure to get registered in the hall and deposit finisher bag (if any) between 6 am and 6:45 am, then get lined up behind the start banner by 6:50 the latest.
Finish Area Logistics
Finish Line
All categories finish at the same location as the start.
The 12k competitors will arrive to the finish area along the road through the village
All other categories will arrive to the finish line across a hanging bridge.
Please note that running across the hanging bridge is NOT ALLOWED. Once you reach the entrance to the hanging bridge the race is neutralized and competitors must cross the hanging bridge in the order they arrive at it. A maximum of 10 people is allowed on the bridge at any time.
Toilet / Showers / Food / Rest area
There are basic toilet and shower facilities at the finish. Another option is a refreshing dip in the river. If you have a finisher bag at the hall, please produce your bib number to collect the bag. We kindly ask that you try to clean the worst of dirt off before entering the hall.
The finisher food options are still to be finally settled, but are expected to be based on food vouchers with multiple options. Details on this will be provided in due time before the race.
For 100k competitors who finish during the night after the last bus transfer (around midnight), it is possible to rest/sleep in the hall. Please bring your own sleeping mat / sleeping bag for comfort.